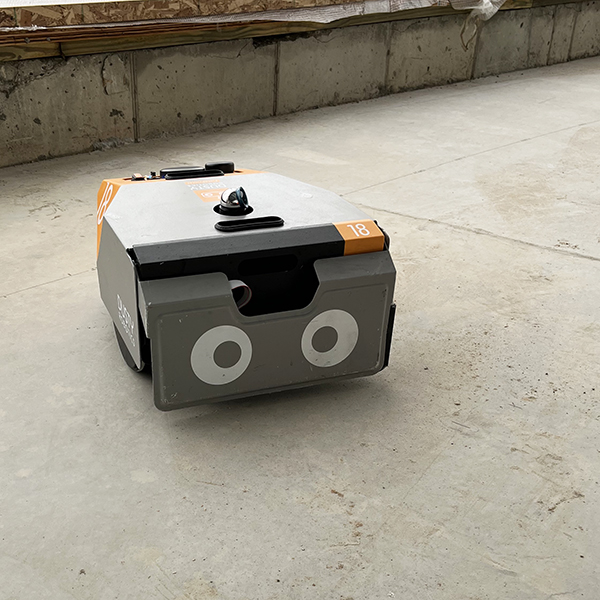 FIELD PRINTER
Dusty is the next generation of construction layout, helping to dramatically reduce schedule time and rework costs through accurate, full-scale floor layout. Now available as a service from The Bouma Corporation.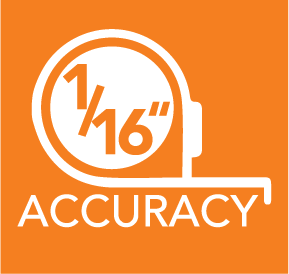 Dusty prints full-scale from the CAD files onto various construction surfaces with a 1/16″ accuracy.
Capable of printing any combination of text, points, and customized linework styles for any interior trade.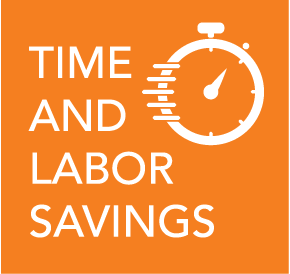 Add layouts on your jobsite in a fraction of the time it would take a manual layout crew to place traditional chalk lines.
ACCURATE, FULL-SCALE LAYOUT FOR ALL TRADES
INTERIOR WALLS
Wall Framing Lines
Wall Types
Wall Sizes
In-Wall Insulation Types
Radius Finishing Lines
Radius Framing Lines
In-Wall Devices
Room Labels
Corridor Labels
DOORS & OPENINGS
Door Numbers
Hinge Side/Door Swing
Door Types
Hardware Labeling
DRYWALL FINISHES
One-Layer Finish Lines
Two-Layer Finish Lines
Drywall Type Labeling
Fire-Rated Drywall Corners
SOFFIT/BULKHEADS
Framing Lines
Finish Lines
Elevations
Radius Framing Lines
Radius Finishing Lines
Liner Placement
Can Light Placement
HVAC Locations
CEILING GRID
Grid & Ceiling Tile Types
Specialty Ceiling Types
Grid T-Lines
Grid Elevations
Ceiling Cloud Layouts
Lighting Layout in Grid
Ceiling Wire Locations
MEP
HVAC Locations
HVAC Pass-throughs
HVAC Sizes
VAV Boxes & Labels
Hanger Layouts
HVAC Elevations
ELECTRICAL
Ceiling Grid Locations
Soffit Light Locations
Wall Switch Locations
Outlet Locations
In-Floor Electrical Box Locations
Circuit Labeling
FLOORING
Types
Patterns
Transitions
Radius Patterns
USING DUSTY ON YOUR JOBSITE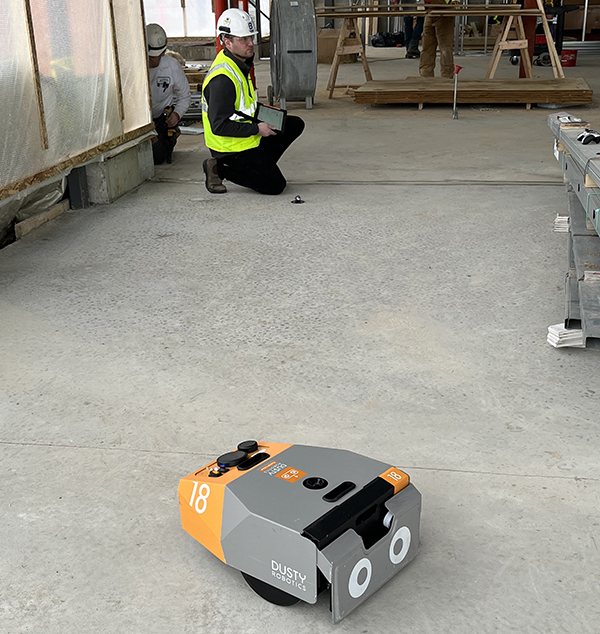 PLANNING PROCESS
Our Dusty crew will meet with your project manager and foreman to learn which text, points, and lines will be most beneficial for printing.
BEHIND THE SCENES
We receive your trade-specific CAD files and prepare custom robot-ready files.
ON THE JOBSITE
Field printing is scheduled to take place by our team at a time and date that your jobsite foreman is available to be onsite.
This innovative tool can help your team build more precisely with greater efficiency. Contact us today to discuss our availability and pricing structure for the service.
Contact our Dusty Operations Leader:
Tim Bauer | tbauer@boumacorp.com | (616) 318-3079